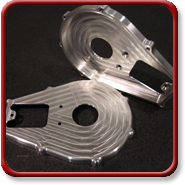 General Capabilities:
CNC Milling – work envelops: 20 x 16 x 20
Secondary Operations:
Prototyping
Working with Models
Reverse Engineering
Volume: Low to Medium – can expand to meet production needs.
A milling machine is a machine tool used to machine solid materials. Milling machines exist in two basic forms: horizontal and vertical, which terms refer to the orientation of the cutting tool spindle.
Unlike a drill press, in which the workpiece is held stationary and the drill is moved vertically to penetrate the material, milling also involves movement of the workpiece against the rotating cutter, the latter of which is able to cut on its flanks as well as its tip. Workpiece and cutter movement are precisely controlled to less than 0.001 in (0.025 mm), usually by means of precision ground slides and leadscrews or analogous technology. All of our milling machines are digitally automated via computer numerical control (CNC).